Amateur Flamenco Shoes
Your first dance shoes that you will never forget!

These shoes are ideal for you who are about to enter the world of Flamenco. Like all our shoes, they are handcrafted using traditional methods. Still they are priced competitively to make them affordable for beginners.

We have carefully achieved this by using more cost effective materials such as lower-grade leather and synthetic soles, which are glued on rather than hand-stitched.

 

NOTE: For faster production and delivery time you may want to choose between our Express Shoes or Shoes in Stock.
Displaying 1 to 6 (of 6 products)
Reviews
Just a note to inform you that I received my new pair of flamenco shoes. I am happy with them. Not only are they very comfortable, the shoe style is b
Average user rating: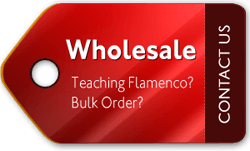 Please complete all required fields in order to continue.