Elite Flamenco Shoes
If you are already dancing at a professional level and require shoes that will last for a long time then LOOK NO FURTHER!

Our Elite Collection is made of premium quality double-stitched cowhide leather and even has a two-ply leather sole. These shoes promise you a perfect tapping sound and ultimate durability to respond to the needs and live up to the expectations of even the most demanding dancer.
Reviews
This is a beautiful flamenco skirt for performances. Usually good quality flamenco skirts tend to be overvalued but this one was great value for money
Average user rating: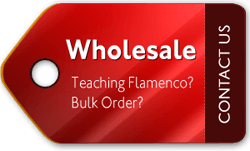 Please complete all required fields in order to continue.