Flamenco Hats
The Cordobés flamenco hat: every symbol has the meaning we choose to give it!

The Cordobés hat is Flamenco's most striking features.  Originating in the city of Córdoba, the Cordoban hat's fame spread around the world. Through the passage of time, it became the established accessory in Flamenco performances.

Drawn to its irresistible allure, Flamenco dancers, men and women alike, will put on a Cordoban hat, usually in black or red, as the ultimate finishing touch to their costumes.

They can be worn in combination with the Flamencista Flamenco Combs and Flamenco Bracelets to achieve a fantastic aesthetic result.
Flamenco Hat Model Cordobes

sale

22.00€

19.80€

Details
Displaying 1 to 1 (of 1 products)
Reviews
Great customized flamenco shoes. My left foot is shorter than the left and Flamencista were the only flamenco shop to produce 2 different shoes for me
Average user rating: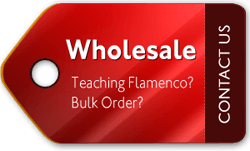 Please complete all required fields in order to continue.