Rating:

Hello from Australia! I ordered my Cordobes hat on Friday morning Melbourne time and it arrived in my hand from Europe Monday mid afternoon, so within 72 hours! I couldn't even get responses from local Melbourne companies within that time! So thank you to Flamencista for their efficient, prompt, exceptionally courteous and excellent customer service! I would recommend this company to ANYONE! Ole!

Christine M. – Melbourne, Australia
Average user rating:

Displaying 1 of 1 reviews
Reviews
I couldn't be more delighted with the pair of Elite Boots delivered to me recently. They are stylish, beautifully made, a perfect fit and are incredib
Average user rating: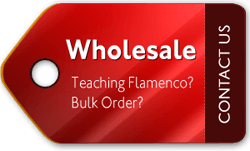 Please complete all required fields in order to continue.