Semi Professional Flamenco Shoes
The Semi-Professional Collection is suitable for more experienced Flamenco students or beginners who are looking for top quality at very affordable prices.

They are handmade of cowhide leather, have leather soles, and are ideal for long practice sessions.

The main differences from the Professional model are that their tapping sound during the zapateado is somewhat less perfect, and their soles are glued on rather than hand-stitched.
Displaying 1 to 8 (of 8 products)
Reviews
For me less is more. This is a classic model, which is made to perfection. It feels light but robust and the sound is great. If you can afford the ext
Average user rating: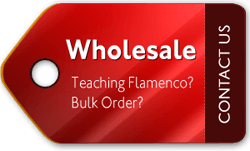 Please complete all required fields in order to continue.