Stock Flamenco Shoes
You favorite flamenco shoes now available for immediate shipping!

We have selected some of the most popular Flamencista models and we now have them in stock for you who cannot afford to wait!

Take advantage of this special offering and order your favorite flamenco shoes before the stock runs out!

NOTE:  We often have additional models in stock that are not listed here. Please feel free to contact us to find out which shoes we have in stock at any point in time.
Flamenco Shoes for Girls Model Princess

45.00€

Details
Displaying 1 to 4 (of 4 products)
Reviews
This is a beautiful flamenco skirt for performances. Usually good quality flamenco skirts tend to be overvalued but this one was great value for money
Average user rating: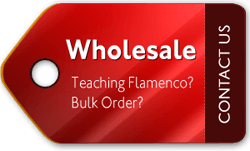 Please complete all required fields in order to continue.