Rating:

I saw Manuela Carrasco in a video wearing these shoes and I placed an order. The shoes are beautiful and they fit very well. Also the customer service was excellent.
Rating:

A dream come true! This is the exact pair that Manuela Carrasco wears. Flamencista told me that her favourite color is red, which I bought. The fit is excellent and the sound great!
Average user rating:

Displaying 2 of 2 reviews
Reviews
My favorite pair flamenco shoes! I bought this color and it looks really nice. I am the only one in the class who is wearing this so i am very pleased
Average user rating: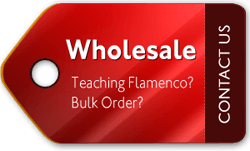 Please complete all required fields in order to continue.