Ultimate Manuela Carrasco Flamenco Shoes
Deliver your command performance in your new Manuela Carrasco shoes!

Flamencista's best kept secret, this incredible Flamenco shoe is the result of unprecedented craftsmanship and collaboration with one of Flamenco's greatest performers and legends, Manuela Carrasco. Manuela Carrasco has been wearing our Ultimate Collection producing captivating performances.

 

This beautifully designed Flamenco shoe is offered in a luxurious gift box and bears Manuela Carrasco's official signature on both insole and sole. Her full endorsement certifies the high quality, durability, and elegance of movement that our Ultimate collection can bring to your performance.

 

This shoe will enable you to deliver an emotional yet powerful and passionate performance that will thrill your audience.
Displaying 1 to 9 (of 9 products)
Reviews
Beautifully made and extremely light. Exceptional sound. Highly recommended!
Average user rating: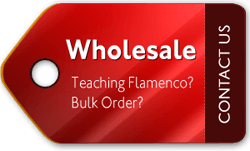 Please complete all required fields in order to continue.