Rating:

Just a note to inform you that I received my new pair of flamenco shoes. I am happy with them. Not only are they very comfortable, the shoe style is beautiful and well-crafted. I love that gorgeous fuchsia color!

Thank you.

Rosalyn
Rating:

Ole, Flamencista! I love my new shoes! Purchasing shoes that have to fit perfectly from across the world is a challenging task. The shape, the fit, the sound quality, the construction quality and the overall look is so key to the success of delivering an exact performance that the shoe must be designed without flaw! The team that I worked with at Flamencista, Kyriakos and Agis, eased my worries during the purchase by providing me with the best customer service that I have ever received.

They were prompt, knowledgeable, pleasant and detailed. Kyriakos made sure that before the sale was official that I was 100% certain and he guaranteed that I would be 100% satisfied. His spirit and love for flamenco eased my mind during the transaction, the waiting period and at delivery. I actually thought his promises were too good to be true, until the day that my beautiful pair of shoes from the Ultimate Collection arrived.

As promised, the shoes are beautiful, they fit perfectly and their sound quality is amazing. The first time that I wore them, I felt their magic instantly and my artistry quickly advanced. I look forward to ordering another pair in the future from Kyriakos and the team at Flamencista!

Ole,

Elissa K, US
Rating:

Hola Agis, como esta? This is just a quick email to let you know my shoes have actually arrived quickly. I got them in the mail on May17, super quick. I have been wearing them for two weeks now and I really love them. They are now my favourite pair by far!! I love this model style and of course the colour. Everyone who has seen them are envious of me. A few of them tried the shoes on and they love the feel of them!

Take care and talk again soon.Gracias, Pam :) "flamenco shoe freak" !!!
Average user rating:

Displaying 3 of 3 reviews
Reviews
Hi Agis!! just to let you know that I received my skirt and I love it!!! it fits great and looks and feels very well done, it is beautiful! I want to
Average user rating: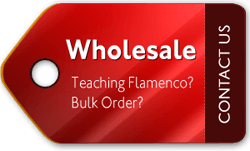 Please complete all required fields in order to continue.